Offices: Suite 305 (Co-working)
Suite 305: Professional Office Suite (Co-Working)
1000+ Sf, $500/mos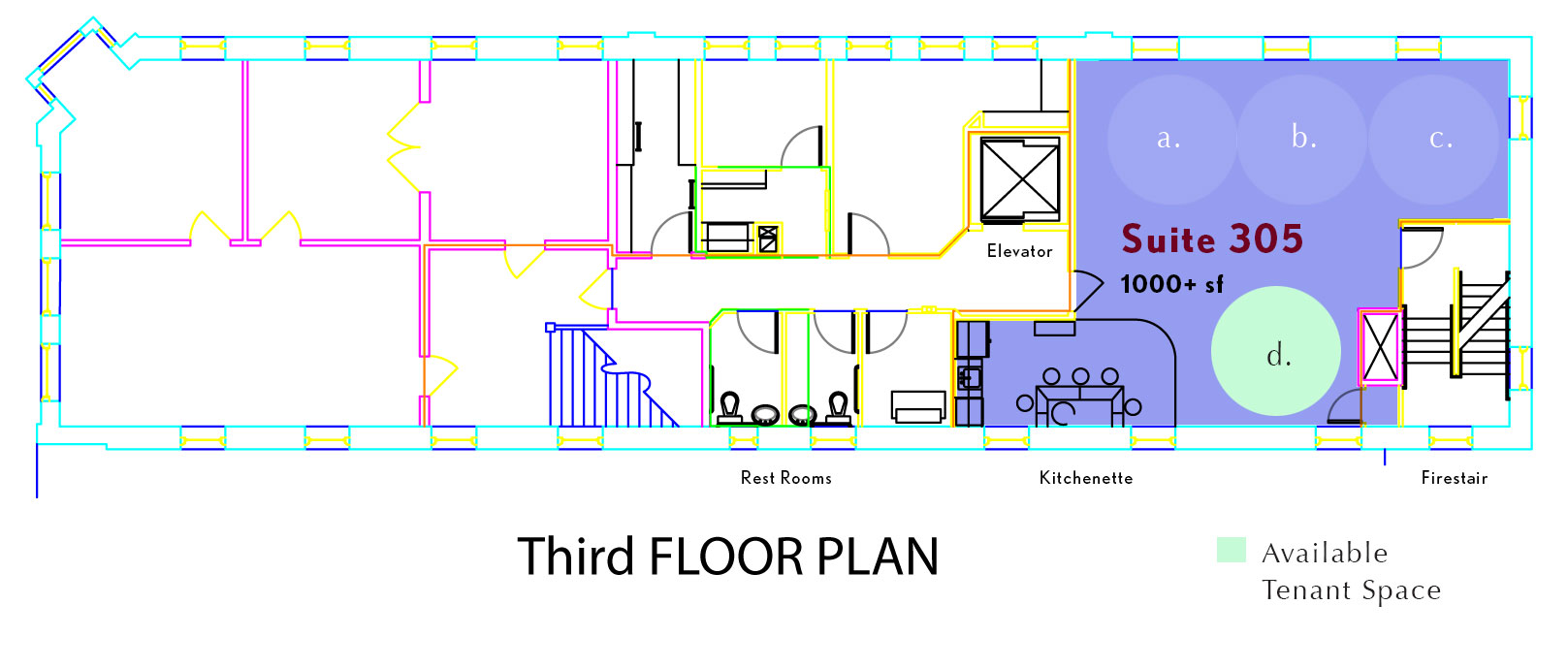 INTERESTED IN CO-WORKING? Co-working is getting traction as an alternative to the traditional office. It's a way for entrepreneurs and creative professionals to "share" a common space, while having "private areas" within that space. Think "professional office room mates." We've been using Suite 305 as a co-working environment for a number of years now with really great results. We currently have an open area (Area D above).
What's co-working? Co-working is great for people who typically work alone, but find it unstimulating and isolating to work in a private space or at home. With co-working, you get your own desk, but share the room. And perhaps best of all, you get to be in a really great work space without having to carry the whole space all by yourself.  So it's a clever way to get a better office space for less money. Here's how it works: The entire suite is furnished, with desks, chairs, drawers, etc. You lease a desk/area within a large room and share it with others who are doing the same. Tenants share a kitchenette and conference table. We all respect each others space and interact as much or as little as feels good. Co-working is great for solo-preneurs and creative types who crave the occasional interaction and stimulation of a group of like-minded people but want their own space.  
Obviously, co-working is not for every one. Is it for you? One of our co-workers is moving to Florida, and we're looking to fill the space.
To have a successful co-working experience, you need to work well with others, and appreciate the "up-sides" more than you dislike the "downsides." Complete privacy, for example, is impossible. And if you have trade secrets or over-riding security issues, co-working just won't work for you.  We ask that you limit the amount of people who work full-time in any particular area to 2. We currently have an internet start-up in Areas a + b, and a marketer in Area c.
Work areas lease for $500/month, plus utilities. Utilities are explained below, but generally average around $50 month. Minimum 6 month leases, with a 1-month security deposit.
Suite 305 is an open-plan suite (the "Eastern Suite"). This amazing suite has 7 enormous windows, 6 hanging dome lights and 3 hanging ceiling fans. It's 1,000 sf (+ -). The ceiling in this suite is easily 20 feet high. The suite also features a private kitchenette, and easy access to the elevator and Common area restrooms.
---
While this grand building has stately 19th century charm, it's infrastructure is pure 21st century. State-of-the-art double-telescoping Thyssen Krupp elevator takes you from ground level right to the front door, while blazing-fast fiber-optic internet is available from Suddenlink.
Utilities
Third floor utilities are billed by how many "units" a tenant leases. The entire 3rd floor has been gridded into 12 units. Most suites represent one unit, although there are 2 exceptions: Suite 300 contains 2 units, and Suite 305 contains four units. The monthly utility bill for the floor is divided 12 ways, and each tenant is billed a pro-rata share based on how many units they control For example, Ste. 304 (a private office near the elevator) controls 1 unit. A "typical" utility bill for the floor is about $657.54. Suite 304's pro-rata share of that bill would be $657.54/12 = $54.81. In the case of Suite 305, this would be $54.81 x 4 (4 units) = $219.25.  In the case of co-working in Ste. 305, a "work area" maps to a "unit," so Area d would be $54.81. The landlord sends out utility bills as soon as the City of Georgetown prepares them, typically the first week of the month.
Work in an amazing location
Downtown Georgetown is  great! Talk about a great "quality of life" at work!  And one of the really great things about this suite is it's proximity to Gumbo's fantastic lounge and private room. With it's gorgeous lounge and wonderful outdoor balcony, the 2nd floor lounge is a great place for entertaining clients and closing deals.
And with a plethora of other great dining options on the Square, working in downtown Georgetown offers a magical quality of life. If you want to escape from the drudgery of fluorescent bulbs, cubicles, strip malls and office parks, working on the Square is utterly invigorating and refreshing. Here we offer zest, and the stimulation of a vibrant downtown. Work and play in the energy and vitality of a bustling district. We offer walking-distance access to banks, coffee shops, restaurants, fine retail, pastries, title companies, beauty salons, government offices, and the county courthouse. There is just about always something interesting going on downtown.
See how good work life can be on the Historic Courthouse Square!
READY TO FIND OUT MORE?
Call 512.633.2961 for more information!
Suite 305 Photo Gallery
Click on any photo to engage the gallery: click on arrows by the captions to advance to the next frame.