DM Partners Welcomes Gumbo's!

DM Partners is proud to announce that we have signed Gumbo's Steak and Seafood to the Old Masonic Lodge Building on Georgetown's Historic Courthouse Square.  Gumbo's is an fantastic brand; truly one of the regions most extraordinary dining experiences.
Gumbo's will occupy the first two floors of the building, for a total of over 6,000 sf.  This is significantly larger than their previous location in Round Rock, and will allow the restaurant to almost double seating capacity while also offering expanded catering, bar and private room capabilities.  Outdoor dining will be offered on the sidewalk below the canopy as well as on the second-storey balcony.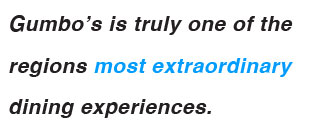 The new Gumbo's concept will be called Gumbo's North, and the second floor lounge will be called Gumbo's Bar.  While the two floors are both part of the same organization, they will be branded slightly differently, and the upstairs lounge will offer live music on the weekends and will be open later than the first floor dining room.
Gumbo's North will make a fine addition to the cultural fabric of our downtown, and an excellent compliment to Georgetown's culinary offerings.
Just in time for balcony season
Perhaps best of all, Gumbo's patrons won't have to wait long for the venerable restaurant to open its doors! Just in time for cooler weather, Gumbo's expects to open at the end of September!
For more information, and to get a jump on the holiday party season, call (512) 671-7925.